Fashion
GUCCI CELEBRATED ITS 100TH ANNIVERSARY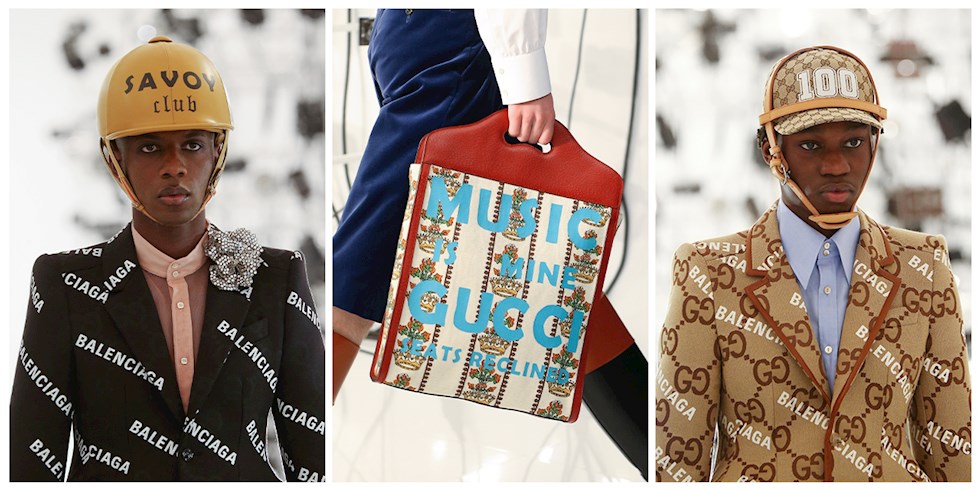 We see a collaboration in almost all brands. The cooperation in the fashion industry has become indispensable for luxury fashion brands. Celebrating its 100th anniversary with its 'Aria' collection on Thursday evening, Gucci signed a surprise collaboration for its anniversary. Meeting with Balenciaga's Creative Director Demna Gvasalia for her designs, Gucci Creative Director Alessandro Michele made this important anniversary even more memorable.
Combining the Balenciaga logo with the Gucci monogram pattern in the collection, Michele and Gvasalia created designs that will leave their mark in the postmodern Instagram era. Having directed the movie of the 'Aria' collection with Floria Sigismondi, Michele became both designer and director for the 100th anniversary of Gucci! Feathered trousers, crop tops, a model carrying a lively bunny, body chains and much more …
Inspired by the designs of Tom Ford, who was the Creative Director of Gucci before him, Michele re-adapted the red velvet suit Gwyneth Paltrow wore in 1996. The new collection, containing '100' inscription hats, face jewelery, riding boots and a lot of sparkle, resembled a visual feast.
While referring to the Savoy hotel, where the founder of the brand Guccio Gucci worked when he was young, the models entered a club called 'Savoy' at the beginning of the film. The models, walking on a podium lined with light bulbs, then went to a secret garden to be viewed with many animals such as rabbits, peacocks and horses. It would not be wrong to say that we stepped into Michele's dream world in this film that shows more than just clothes with a 15-minute film.
Stating that Gucci is under the same fashion group Kering as Balenciaga, Michele emphasized that it is very interesting to establish a dialogue together. "Demna enjoyed my creation of different things using her patterns and styles," says Michele. "I added a little more light and glow to her designs." Michele, who likes to highlight the Gucci interpretation of different people, preferred the songs that mention "Gucci" in the music of the show. "I think innovation is the only way to keep fashion alive," Michele said, who plans to change the norms of luxury in the new Gucci era.
Stating that he left the traditional fashion calendar by making a screening in April, Gucci announced that he left Milan Fashion Week in May last year and announced that it would no longer be a season. Saying that they will show two collections instead of five collections a year, Gucci added that they could follow a more sensitive and sustainable fashion path.
Others